What is a beach umbrella? You're no doubt aware of what an umbrella is, so for this article I'll focus on what sets a beach umbrella apart from the rest of the umbrella product family. Why are beach umbrellas important to know about? Beach umbrellas are the undisputed classic method for creating shade on a beach! I've already discussed beach tents, beach cabana tents, and beach canopies. Now we'll discuss umbrellas and why they are still a great way to create shade on the beach.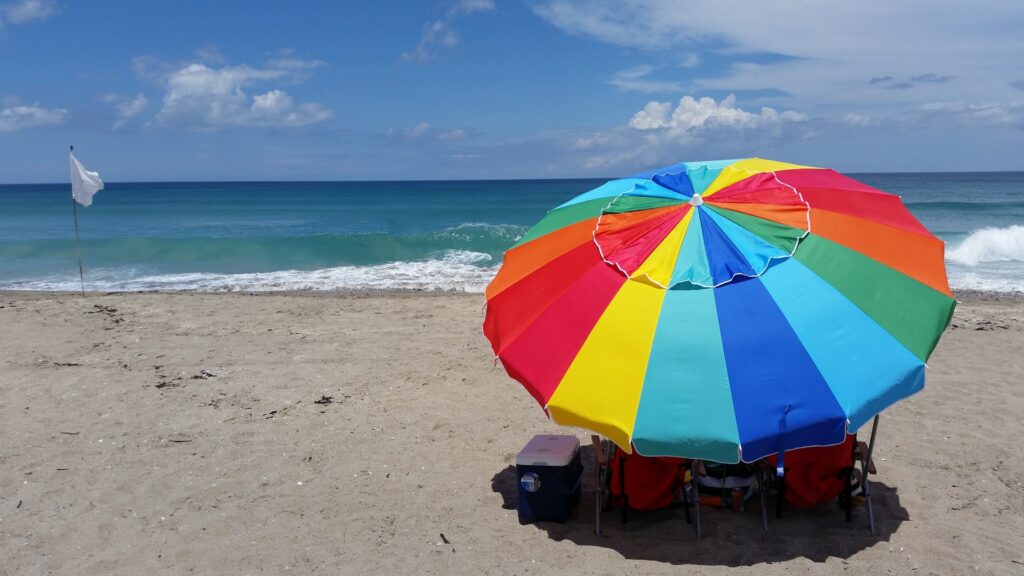 Photo by Wendy Wright on Unsplash
Beach umbrellas are unlike other forms of beach shade. I've even done a comparison of an umbrella with other beach shade options. In their simplest form and with only a few exceptions, they are the only beach shade option that doesn't require any "assembly" at the beach. They are far easier to reposition than many other beach shade products. Plus, nothing beats an umbrella when it comes to setup speed. If I wanted to create fast, portable shade for a myself and one or two other people, an umbrella might be hard to beat.
Basic Structure of a Beach Umbrella
In many regards, beach umbrellas should not be thought of as being like any ordinary umbrella. They can differ from a regular rain umbrella a great deal while being based on the same basic structure. Like a standard rain umbrella, a beach umbrella has lightweight retractable canopy that can be quickly popped open. From the same basic starting point, things get different.
Unlike a standard rain umbrella, beach umbrellas often possess additional features to make them more useful in a beach environment. Some beach umbrellas have extendable main poles so that they can stand higher above the ground. Some have retractable wings on their canopies that can be staked to the sand to create a larger area of shade. This allows an umbrella to function similar to a beach tent for wind protection. Some even feature pole ends that have sand screws or spiked ends for easy mounting in the sand. The list of additional features goes on from there. Here are a few key points to know about beach umbrellas:
Self-Contained – Like any standard umbrella, beach umbrellas are often completely one unit and fold up onto their own pole. This "zero assembly required" design is unique among beach shade products. Beach canopies have to be poled, staked, and stood up. Beach tents have to be poled and raised. With a beach umbrella the canopy need only be opened and the umbrella is ready for use.
Common and Popular – No beach shade product is as common as a beach umbrella. On any beach I've been to, there are always far more umbrellas than other shade types. On a very crowded beach, it's possible to frustrate other beach visitors with a tall beach tent, or an expansive beach shade, however nobody will be bothered by the presence of an umbrella. They're as welcome on the beach as a towel, some sunscreen, and a sand bucket.
Sample Products
Check out these cool beach umbrellas that are for sale right now to get an idea of how much they can differ from a standard umbrella.
Benefits of a Beach Umbrellas
Though they have been around for a very long time, beach umbrellas are still a much loved way of creating beach shade. There are good reasons for this. Here are some of the ways that beach umbrellas really shine.
Fast Setup
Where setup speed is concerned, no other beach shade even comes close to the speed of an umbrella. While other beach shade options may pride themselves for setup numbers that are in the range of a single digit number of minutes, beach umbrellas can be set up in seconds. Pop open the umbrella canopy. Place the umbrella pole in or on the sand. Done.
Where a larger quantity of beach shade is now required, it's hard to beat the convenience of not having to spend a lot of time doing setup on arrival at the beach. For one to three people, a beach umbrella is an attractive option for adequate beach shade without any setup hastle.
Practicality
While they can be a little long, beach umbrellas are rarely very big around, and so they are very easy to carry and pack to the beach. They are also incredibly common sights on a beach, so they are unlikely to cause issue if the beach is busy and space is hard to come by.
As they are so simple to setup and take down, beach umbrellas are also incredibly easy to relocate if desired. For larger beach shade products, once setup is complete the occupant(s) will feel compelled to stay in one beach location. It is not practical to take down a beach canopy or beach tent just to set it up again further down the same beach. With a beach umbrella, moving to another location on the sand, or moving due to the shifting sun and surf can be completed with total ease.
Cost
Creating shade on the beach shouldn't break the bank. This is another area where beach umbrellas really do well when compared to other products. Beach tents, beach canopies, and other beach shade options can get expensive. On the other hand, beach umbrellas are relatively inexpensive. Brand name beach umbrellas can be purchased for about $40. When compared to other beach shade options, beach umbrellas shine as a cost-effective option. Here's one example:
Note: As an Amazon Associate I earn from qualifying purchases.