What is a beach tent? Several types of products can help you create shade on the beach. "Beach tents" are one such category. There are multiple categories of beach shade products discussed on this site. I thought it would useful to discuss each type of beach shade in greater detail.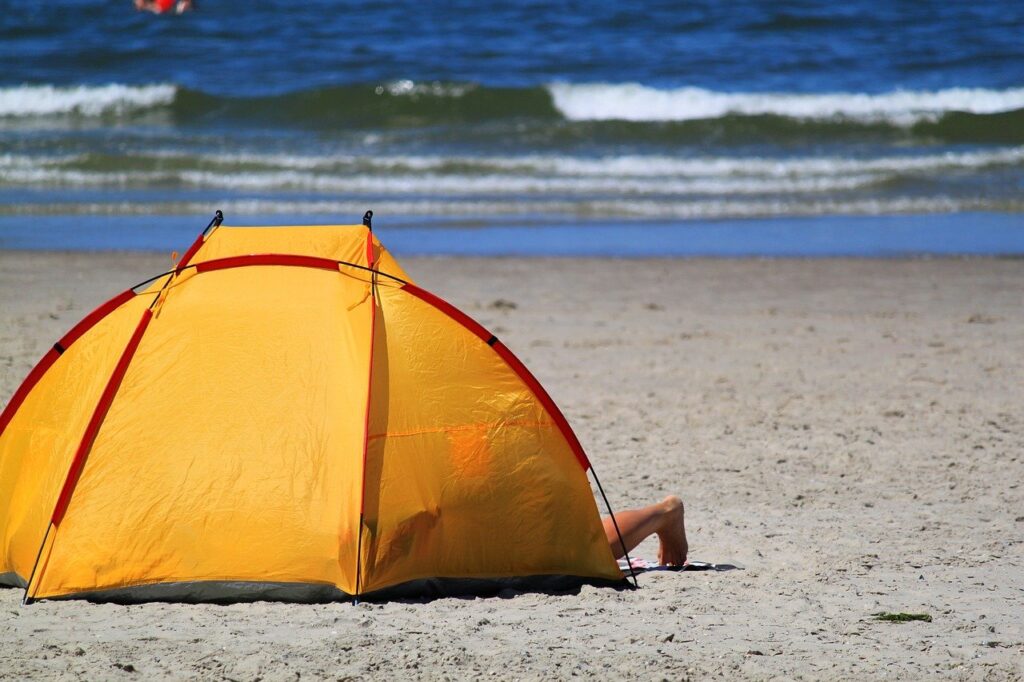 Photo by cocoparisienne on Pixabay
A beach tent is a tent meant to be used on the beach. Beach tents are not the same as camping tents. Though they share similar basic structure, a tent designed to create shade on a beach would make a poor camping shelter, and a camping tent would not excel at creating practical shade on a sunny beach.
I really like beach tents, so if you're interested in one I like, be sure to check out my full review.
Basic Structure of a Beach Tent
Like a camping tent, the basic structure is that of light fabric suspended tightly between a frame of poles. Beach tents are typically free standing, allowing them to be placed anywhere on an open beach. Unlike a camping tent, staking a beach tent is often not required. Beach tents often rely on small sandbags to help keep them in place.
Beach tents are designed to be set up and taken down quickly. As such, their design is often simple.
Designed for the sun – Beach tents do not generally have additional weather protection features. A camping tent often has an additional rain-proof layer or "fly" to keep its interior walls dry. A beach tent has no such thing.
Easy Setup – Beach tents are designed to be set up quickly and easily. Some are even "pop-up" or "pull-string" designs that allow for setup without assembling sections of poles.
Benefits of a Beach Tent
Due to their design alone, beach tents offer specific benefits that other options can't offer.
I've made a quick summary of their benefits below. Or, if you'd like a full description, view my full write-up on beach tent benefits.
Clean Floor Space
Unlike umbrellas, beach cabanas, canopies, or suspended beach shades, beach tents have a floor. This creates a location on a beach that is not sandy. For activities where abundant sand would be a nuisance, the clean interior floor is a real benefit.
For example, consider snack time on a beach. Sand might feel great between the toes, however it is completely unwelcome in a sandwich or bag of chips. A sand-free floor creates an easy place to lay some ocean-side snacks without having them get all sandy.
Privacy
Many beach tents have a door that can be closed to create a fully-enclosed space. Even models that lack a door have walls on three sides. Thus, beach tents are able to offer privacy that other shade options can't.
How is this helpful? Consider the need for a diaper change or wardrobe adjustment on the beach. A beach tent can create a private space for these activities out of sight of others.
Wind Protection
Wind is very common on a beach due to their proximity to open water. Beach tents have walls, allowing them to block some or all of the nuisances wind on a beach can cause. Wind fluttering the pages of your book, blowing sand in your eyes, or flipping your beach towel? Some good beach shelter can help with all of these things.
Packed Size
Like a camping tent, many beach tents pack up very small when not in use. This often means that they are small enough to be packed in airplane checked, or even carry-on luggage. Beach umbrellas are too long to pack in luggage, and large beach canopies are also often too large when packed to be practical when air travel is required. When evaluating packed size versus the quantity and quality of shade provided, a beach tent is hard to beat.