Using a beach tent has greatly improved the comfort and safety of our family visits to the beach. Towels, sunscreen, and umbrellas alone are no match for the convenience and safety that a beach tent can provide on a trip to the beach with kids. In fact, I've enjoyed our Coleman Daytripper Beach Shade so much, I decided to put this site together to share how useful I've found a beach tent to be and how much it has improved the comfort of our trips to the beach.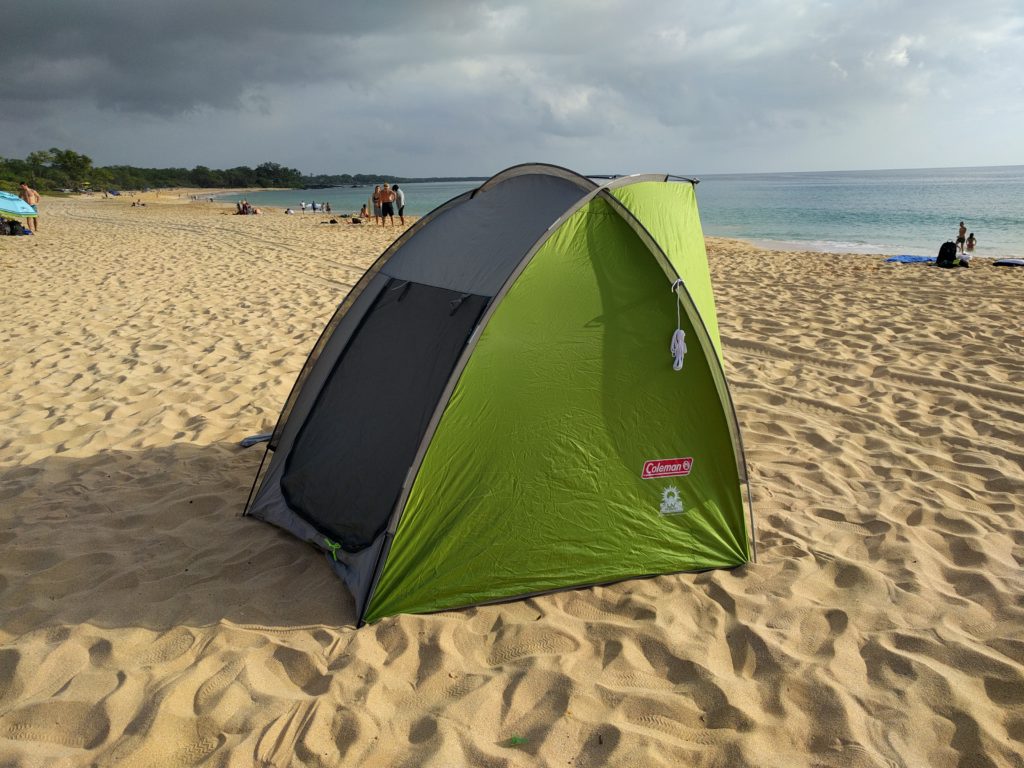 If you're on your way to the beach, please consider the benefits of adding a beach tent or shade to your list of things to bring. They're relatively inexpensive, provide a lot of much-needed shade, offer additional on-beach privacy, and are a great place to keep belongings clear of the endless sand. A beach tent is really a must-have item for the beach.
Beaches Have Their Downsides
When vacationing in coastal areas, I love going to the beach. Personally, I find beaches are an excellent place to relax, read a book, and go for a swim. As a parent, beaches are an excellent place for a family outing – kids love playing in the sand, splashing in the water, exploring tide-pools, and watching the waves crash.
Unfortunately, for all the relaxation, beauty, and fun they can deliver, beaches do have some downsides. They often do not have shaded areas, so kids and adults alike must take caution to avoid the health affects of too much sun exposure. The sand on a beach seems to find its way into everything, making even a short beach visit a potentially messy adventure. Beaches also frequently lack facilities or areas with any privacy for completing ever-present parenting tasks such as diaper changing, nursing, and clothing changes.
In Search of a Solution
As a frequent traveller to beach destinations, I started to look for items that would make our family trips to the beach more comfortable and safer for our kids. We started with the obvious: a beach bag, beach towels, sunscreen, and UV-resistant beachwear for the kids. These items were helpful, but they were still left much to be desired for anything beyond a very short stay at the beach.
To help us best enjoy the beach with our young children, we needed:
Protection from the sun beyond what sunscreen can offer.
A place to store our personal belongings and food where they were less likely to get covered with sand.
Some additional privacy while at the beach.
As our holidays nearly always involved a trip on an airplane, we also needed a solution that was lightweight, packed up small, and was robust enough to survive both air travel and many trips to the beach.
Enter the Beach Tent
For our earlier trips to the beach, different combinations of beach bags, stronger sunscreen, large beach towels, and umbrellas only left me partially satisfied – all these conventional solutions have downsides. By chance, while preparing for a trip, I stumbled on a beach tent while browsing the shelves at a local hardware store.
As a frequent camper, the concept and use of a tent was very familiar to me, and I had seen a few tents on beaches during past holidays, but had dismissed this option as the setup time of a typical camping tent would detract from the enjoyment of a day at the beach. But, the beach tent at the hardware store promised very quick setup, was inexpensive, and would offer far more shade than even a huge umbrella. I purchased it, took it on our next trip, and have never looked back.
We've tried several models of beach tent, and I've come to really appreciate the balance of features provided by one in particular: the Coleman DayTripper Beach Shade.