What is a beach canopy? When it comes to creating shade on the beach, Beach Canopies are one of the main product categories. I've already discussed pop-up style beach cabana tents. In this article I'll provide an overview of standard beach shade canopies. Most often, this style is comprised of a large fabric canopy held tightly aloft by a few poles and some tight ropes.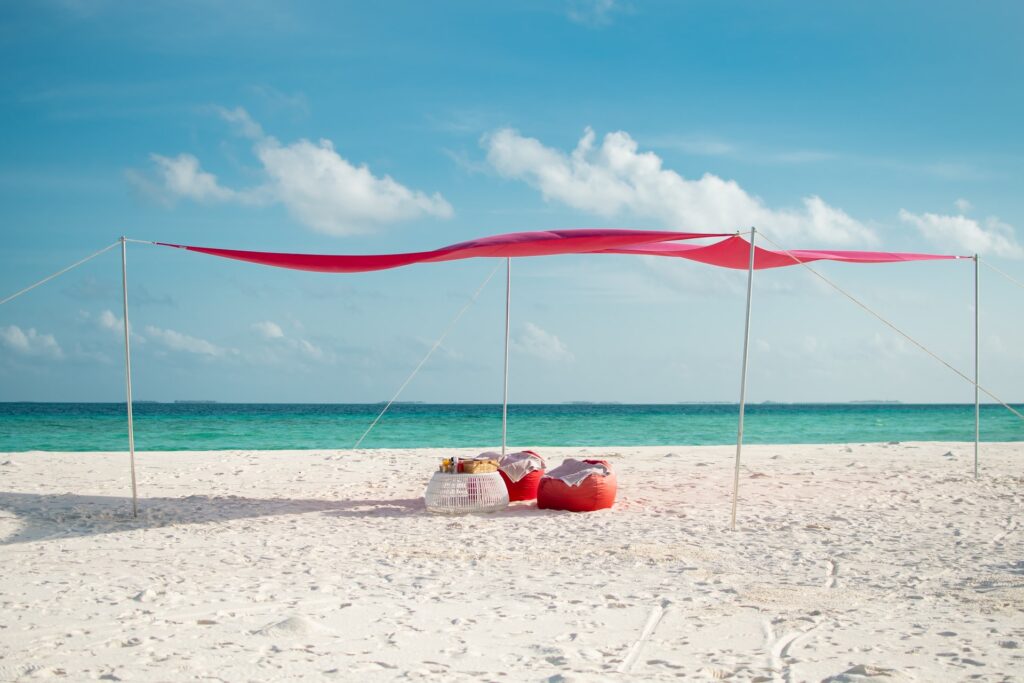 Photo by Shazmyn Ali on Unsplash
It could be said that beach canopies are a lot like beach tents. While there are similarities, beach canopies have some unique characteristics that can be very beneficial for certain uses. When I just need to create shade for my family, I prefer a simple beach tent and have written about my favourite one. That said, if I wanted to create a larger amount of shade and didn't need the walls of a tent, I'd likely use a canopy instead.
Basic Structure of a Beach Canopy
Beach canopies that are not cabanas are large expanses of fabric suspended tightly above a beach by a few poles and ropes. The wide spread of the canopy creates a broad area of shade. Large canopies can create a great deal of shade from just a few basic components. Unlike a beach tent, a beach canopy does not need a frame made of poles. A canopy also does not have walls. The structure of the beach shade canopy is solely focused on holding the canopy fabric above the ground.
Like cabanas and beach tents, beach shade canopies are designed to be easy to set up. Many even rely solely on sand bags for anchoring, so setup can be completed by placing a pole or two and filling a few bags with sand. Beach canopies have a few features that differentiate them from other shade products:
Large Areas – Beach canopies can make use of very large pieces of fabric. A large canopy can yield a large quantity of shade. The fabric can be irregularly sized as well, creating unique shade shape options.
Low Wind Profile – Unlike beach tents and pop-up cabanas, beach canopies can be set up to have a low frontal profile, creating stability in gusts of wind. Tents with walls and tall pop-up cabanas can be negatively impacted by strong gusts of wind that would not trouble a well-placed beach canopy.
Have a look at how these beach canopies look. All of these models are for sale right now:
Benefits of a Beach Canopy
I've already discussed some of the benefits that beach canopies offer. I'll provide full detail below:
Simple Design
The design of a beach shade canopy is simple. Fabric, a few poles, light rope, an anchoring method (often sand bags), and not much else. This simplicity means that beach canopies are light weight and can pack up small. They are also likely to be reliable as there are fewer pieces to malfunction or break.
When it comes to traveling with a beach shade product, simplicity can be a real benefit. Beach shade canopies are available that pack into very small packages, meaning they are suitable for air travel. Their lightweight also makes them easier to haul down to the beach.
Large Size
Like beach cabana tents, beach canopies can create vast amounts of shade. They are limited in size only by the quantity of fabric that can be safely held above the ground. For example, a product from Sun Ninja spreads 10ft by 10ft, creating suitable space for 8 people, yet packs into a small bag and weighs less than 10 lbs.
Consider a case where beach shade is required for a large group at a destination that requires air travel. A large beach cabana tent would be too large to be practical for air travel, and beach tents are generally too small to accommodate more than one family. A pop-up beach canopy would be a good fit in this case.
Lightweight
As previously mentioned, beach canopies have minimal frames, so much of their weight comes from the weight of the fabric. As shade fabric can be relatively light, many beach canopies are very lightweight for the quantity of shade they provide.
For example, the two-poled Sun-Ninja beach canopy is 10ft by 10ft, with room for six people, yet it weigh less than 5 pounds. Even my Coleman beach tent, which I love and travel with regularly, weighs more than that, and provides less shade area.
Stability in Wind
Compared to pop-up beach cabana tents and beach tents, beach canopies have a smaller frontal surface area for wind and breezes to contact. This yields greater stability in windy conditions. As beaches often have wind, stability in windy conditions is an important safety feature.
We've all seen umbrellas being blown about in the wind on a beach. A well-secured beach canopy helps prevent this problem, allowing its occupants to continue enjoying the surf, sand, and sunshine.
Note: As an Amazon Associate I earn from qualifying purchases.